Preparing For Site Visits
In order to build a successful rounds experience, it is imperative that the network establish a foundation prior to visiting classrooms. Before embarking on observations, the network should (at minimum) spend ample time developing a common language, exploring the implications associated with the ladder of inference, and committing to a non-evaluative observation process.
Developing A Common Language
Language is culture, the words we use to describe education are important because they shape our collective understanding (City, Elmore, Fiarman, & Teitel, 2016). One cannot assume that because the same word is used that we share a common definition of that term. In order to reduce the misconceptions, the network should establish a common language for describing what they observe within classrooms. For example, the meaning of "engagement" might differ between educators; thus, it is possible for two educators to observe the same lesson and come away with conflicting opinions about the level of student engagement. While developing a common language will take time, it is certainly worth the effort.
Within their text Instructional Rounds In Education, the authors warn of the danger of assuming that an observation is obvious. "What is obvious to one isn't obvious to all (City, Elmore, Fiarman, & Teitel, 2016). Taking the time to make sure everyone within the network is speaking the same language is a must.
Non-Evaluative Observations
Practicing non-evaluative observation is critical to obtaining educator support (buy-in) and ultimately the overall success of rounds. In time of high-stakes evaluation, it is easy to rush to judgement when observing and much more difficult to take the time to focus on the instructional core.  Focusing on the core is worth the effort, however, as this will allow the network will determine next steps regarding the established problem of practice.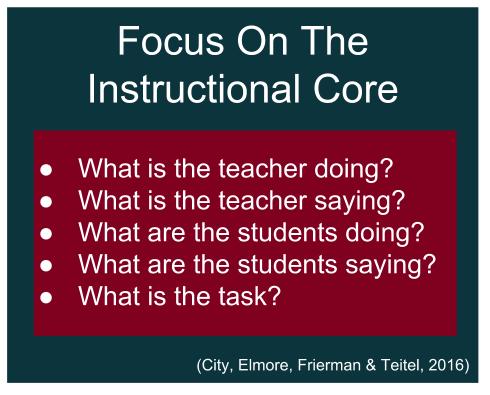 Prior to the observation, time should be spent reviewing specific questions that will help narrow the observer's focus. Our goal during rounds is not to notice every aspect of a classroom, but rather to focus our attention on the problem of practice. Consider what the teacher and students are saying and doing, as well as what task has been assigned. These considerations will help us hone in on what matters most. Remember, if you don't see it in the instructional core, it's not there (City, Elmore, Fiarman, & Teitel, 2016). It may be helpful to utilize a specific form for note-taking during Rounds.
City, Elizabeth A., et al. Instructional Rounds in Education: a Network Approach to Improving Teaching and Learning. Harvard Education Press, 2014.